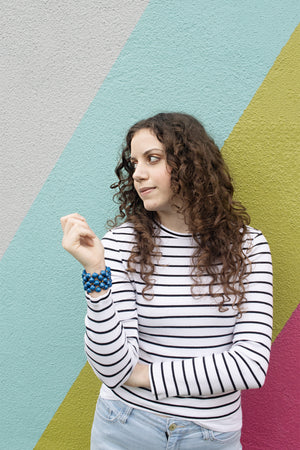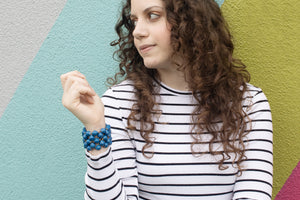 Recycled Paper Statement Bracelets
Recycled Paper Bead Bracelet - Cherish
Bold and Beautiful

The perfect statement piece to dress up your favorite jeans and t-shirt. Each paper bead is hand-rolled by vulnerable women in Uganda, and paired with a small gold metal beads creating a simple piece that is bold and beautiful. Every time you look at your bracelet, you will feel a sense of pride knowing that you are helping to fight poverty for single moms and widows in Uganda. 
Features - One Bracelet

Electric Blue Hand-rolled Recycled Paper Beads paired with tiny matte gold metal beads threaded on clear elastic thread.
one size fits all
No clasp
Made in Uganda
Who benefits from this product?
This bracelet is made by vulnerable women in Uganda looking to escape the grip of human trafficking. Your purchase enables them to provide the basic necessities for their families and send younger women to school.
Care 

Remove before washing hands or showering. To clean, use a soft damp cloth, then let dry completely.
---